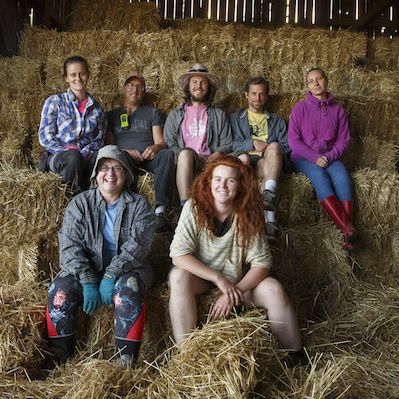 Term 2: Ignatius New Farmer Training Program
Monday May 3, 2021

-

Wednesday July 28, 2021
---
Term 2 focuses on applying farm language and knowledge.
Register for the whole term or choose individual events (registration will open for individual events 4 weeks prior to the event).  
NEW! Sign up as an individual, or register your farm team or household of up to 5 people! This option is only available for full term registrations.
All events are recorded to allow participants to watch on their own time. Recordings will be made available within 48 hours of the event.
Term 2 includes:
May 3rd: Full term participant Virtual Meet-Up, 7-8pm
May 5th: Virtual Field Day: Three Forks Farms, 2:30-3:20pm 
May 10th: Field and Bed Preparation, 2:30-4pm
May 12th: Introduction to Weed Management, 2:30-4pm
May 17th: Irrigation Principles, 2:30-4pm
May 19th: Harvest and Post-Harvest Principles, 2:30-4pm
June 2nd: Running a Full-Season CSA with Cedar Down Farm, 2:30-3:30pm
June 7th: Making Great Compost, 2:30-4pm
June 9th: Virtual Field Day TBA, 2:30-3:30pm
June 14th: Greenhouse Seeding, 2:30-4pm
June 16th: Virtual Field Day: Shade of Miti, 2:30-3:30
June 21st: Cover Crops and Green Manures, 2:30-4pm
June 23rd: Rooftop Farming at Ryerson Urban Farm, 2:30-3:30pm
July 12th: Keeping Sheep on an Organic Vegetable Farm, 2:30-4pm
July 14th: Large-scale Organic Vegetables with Cookstown Greens, 2:30-3:30pm
July 19th: Farmer Reset, 2:30-4pm
July 21st: Raining Gold Farm, 2:30-3:30pm
July 26th: Beyond Land Acknowledgements, 2:30-4pm
July 28th: Nourishing a Reciprocal Relationship with the Land, 2:30-4pm, and Full term participant debrief virtual meet-up, 7-8pm
Prices will increase after April 26th.
Full program details available here  >
In order to make training and community building events accessible to all farmers and future farmers in Ontario, the Ignatius New Farmer Training Program strives to cover registration fees for anyone facing barriers. Need assistance covering the registration fee? Let us know!