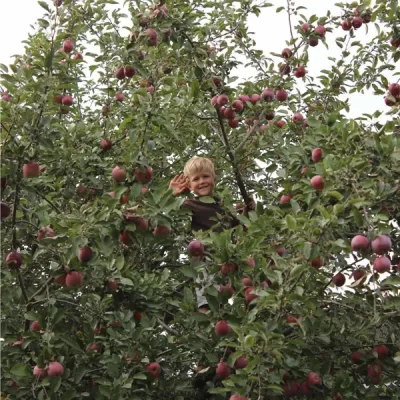 Willow Creek Permaculture Farm
Saturday September 16 @ 10:00 am

-

3:00 pm
---
Rob Read and Julie Walter and their children are integrating permaculture into their lifestyle on the 50 acre farm they care for near Dutton, Ontario. This field day will be a tour with a brief overview of the Willow Creek interpretation of permaculture. Depending on interest and time available, more focus can be brought to topics of most interest to the group that attends.
Trees and perennial foods are a big focus at Willow Creek. Hazelnut trees are integrated into pasture land. A substantial hedgerow with hundreds of trees is being established. Dozens of named varieties of fruit trees, and many berry shrubs and culinary and medicinal herbs, including some unusual ones, will be on show. Learn about the concepts of forest gardening/food forests, and techniques to protect trees from wild and domestic animals.
Large annual vegetable gardens with a focus on no-till and mulch in wide-beds are another primary way food is grown at Willow Creek. EFAO Farmer Led Research projects are underway on growing potatoes using the mulch method, and breeding a landrace of large butternut-style squash. CANOVI research trials on carrots and heat-tolerant lettuces are also underway this season, as well as many less formal trials such as paste tomatoes, and OP broccoli and cauliflower. Learn what taking part in this kind of trial is like, and perhaps hear about some preliminary results on this year's trials.
Soil analysis and remineralization became a big focus starting in 2021. Learn more about how to grow in clay-silt calcareous soils, and how to get started with applying soil amendments to balance minerals in any soils, using specific soil tests.
Livestock at Willow Creek include chickens, turkeys, pigs, and cattle. Learn about livestock guardian dogs, Kunekune pigs (whose primary diet can be pasture and hay), and rotational grazing.
Field crops at Willow Creek are hay (7 acres), and switchgrass (25 acres). Learn ways to work with large acreage without actually owning your own tractor or equipment, and about switchgrass, a native perennial grass usable as both hay and bedding, depending on when it's harvested. Learn also about grassland-nesting birds, and choices that can be made to protect them, and programs that have been created to support this.
At Willow Creek lifestyle is integrated with the land. Learn how it's possible to live in abundance, in collaboration with nature, without off-farm jobs.
Attendees are asked to please bring a picnic lunch for this field day.
Note that the farm entrance is on Chalmers Line, just west of Willey Rd, not on Willey Rd, as some mapping software may indicate.