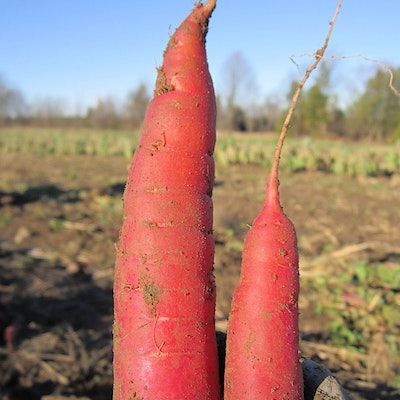 The Care in Carrots: Urban Agriculture and Crop Breeding
Thursday September 22, 2022 @ 1:00 pm

-

5:00 pm
---
Urban agriculture provides incredible benefits to families and communities in the form of affordable, healthy, culturally appropriate food. It also brings urban dwellers into relation with the conditions of small-scale food production. While this type activity is often contrasted with scientifically invested methods of farming, an increasing number of scientists and growers are working together to develop ecologically sustainable yet highly productive farming practices under the name of "participatory crop breeding."
Through the example of participatory carrot breeding, this two-part workshop asks what urban gardeners – including community farms, urban CSAs, home gardeners, and campus farms – can take away from crop biologists and soil scientists. And it asks how sciences typically focused on maximizing high-intensity agribusiness can be turned to support resiliency in small-scale agroecological and urban farming. The first part is a series of talks by researchers on the cutting edge of these questions. The second is a visit to the UTSC campus farm to enjoy and explore carrots! Join us for a carrot variety tasting, cooking demo, carrot trivia, and creative opportunities.
***Reserve your spot for either one or both parts of the workshop***
Part 1: Presentations 1:00pm – 2:30pm – Department of Physical and Environtmental Sciences – Room EV140
1:00 – 1:30pm – The campus turn in (alternative) urban food systems – Michael Classens, School of the Environment, U of T
The impact of college and university campuses within the context of broader food systems change has become an increasingly popular scholarly focus. From the role of institutional procurement in shaping and growing local and regional food systems, through to the pedagogy of (critical) food systems education, and on-campus food production, there has been what might be considered a "campus turn" in the movement for more just and sustainable food systems. In this short talk I'll give an overview of campus-based food systems alternatives – from farms and gardens, through to student-run food banks and cooperatively run cafés – and discuss how this rich diversity of initiatives form an integral part of the broader movement for urban food systems transformation.
1:30 – 2:00pm – The Known Unkowns of Urbanization on Ecosystem Health – Marc Cadotte, Centre for Envirionmental Research in the Anthropocene, U of T
2:00-2:30pm – Participatory Plant Breeding – Solveig Hanson, Centre for Sustainable Food Systems, UBC; Rebecca Ivanoff, Ecological Farmers Association of Ontario
Plant breeding has been defined as "the art and science of the genetic improvement of plants," and it has proven extremely powerful in shaping crop plants to suit agricultural systems. However, crop varieties bred for mainstream conventional agriculture are not always suited for organic, ecological, or urban farming systems. Participatory plant breeding offers the opportunity to engage farmers, chefs, and consumers in the variety development process, yielding varieties suited for the environments, growing systems, cultural expressions, and creative insights of the participants. We'll describe examples of participatory plant breeding and variety trialling from the Canadian Organic Vegetable Improvement (CANOVI) project, along with the potentials of applying these techniques to crop development for urban spaces.
Part 2: Carrot Visit 2:45 – 5:00pm – UTSC Campus Farm
Join Farm Coordinator Beatrice Lego for a walk to UTSC's Campus Farm for edible, educational, and artistic experiences, all focussed on carrots. The UTSC Campus Farm is one of 40 farms participating in nationwide Canadian Organic Vegetable Improvement carrot variety trials during 2022. These trials are designed to compare a carrot variety bred by (and for) Canadian organic farmers with carrot varieties currently available in catalogs. You'll learn what farmers and plant breeders look for in a great carrot variety for urban agriculture, and you'll get to taste for yourself! Solveig Hanson and Rebecca Ivanoff will offer a carrot taste test where you can discover which varieties you like best, and Kelsey Kilgore from Culinaria Research Centre will offer a carrot cooking demonstration with samples. And in between bites, you'll find carrot-themed trivia and creative opportunities. We hope you join us!