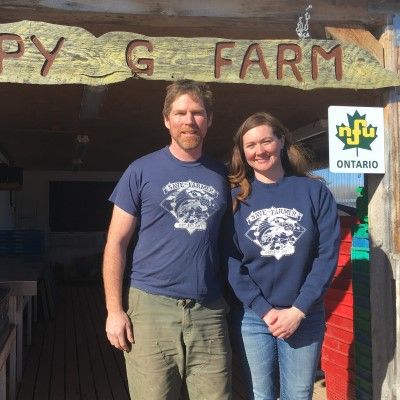 Starting a Farm in Northern Ontario – Q&A for New Farmers
Sunday March 1, 2020 @ 12:00 pm

-

4:00 pm
---
Interested in starting a farm in Northern Ontario? Join other new farmers in your region to ask your most pressing questions of a seasoned farmer who's been there. Discussion will focus on things to consider before starting a farm business.  Use this Q&A event as an opportunity to kick-start your business planning that will help ensure success through the first few years of operation. Save time, money, and frustration by getting tips from experienced farmers.  Bring along your burning questions or farm business ideas plus a dish for the potluck!
Brendan and Marcelle have been operating Sleepy G Farm since 2010.  They grow 8 acres of Certified Organic vegetables and distribute through a 200-member Community Supported Agriculture (CSA) program in addition to wholesaling to grocery stores in Thunder Bay.  Sleepy G Farm also produces eggs and beef as a compliment to nearly year-round vegetables sales that are made possible by an on farm winter vegetable storage facility.
With a strong emphasis on planning, management, and efficient field operations Sleepy G Farm is an economically viable farm business that provides income for Brendan and Marcelle in addition to 3 fulltime seasonal staff.  Sleepy G Farm is an example of how to capitalize on the unique farming opportunities that exist in Northern Ontario.
This event is hosted in partnership with the National Farmers Union Ontario North Local 333. Thank you to FedNor and the Northern Ontario Heritage Fund Corporation for providing funding assistance for this event.
—
Vous voulez démarrer une ferme dans le nord de l'Ontario? Venez vous joindre à d'autres nouveaux agriculteurs de votre région pour poser vos questions les plus urgentes à un agriculteur chevronné. La discussion ira de la création de votre entreprise à la planification de vos premières années d'exploitation, et comprendra des astuces et des conseils d'agriculteurs expérimentés. Apportez vos questions épineuses ainsi qu'un plat pour le repas-partage!
Brendan et Marcelle exploitent la ferme Sleepy G depuis 2010. Ils cultivent 8 acres de légumes certifiés biologiques qu'ils distribuent à travers un programme d'agriculture soutenue par la communauté (ASC) de 200 membres en plus de la vente en gros dans les épiceries de Thunder Bay. Ils vendent des légumes presque à l'année ronde grâce à une installation de stockage de légumes d'hiver à la ferme. La ferme Sleepy G produit également des œufs et du bœuf en complément. Avec un accent sur la planification, la gestion et l'efficacité, la ferme Sleepy G est une entreprise agricole viable qui fournit des revenus à Brendan, Marcelle ainsi que 3 employés saisonniers à temps plein. La ferme Sleepy G est un exemple d'une exploitation agricole qui sait tirer profit des possibilités uniques qui existent dans le Nord de l'Ontario.
Merci à FedNor et à la Société de gestion du Fonds du patrimoine du Nord de l'Ontario d'avoir fourni une aide financière pour cet événement.