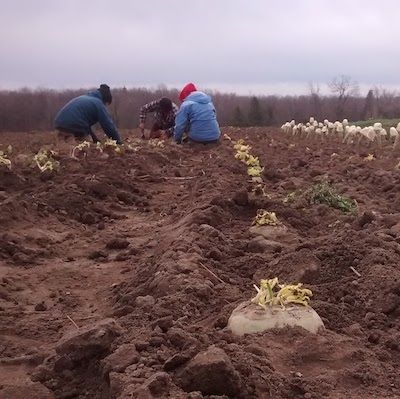 Seed Grower Meet Up: Biennial Seed
Friday May 28, 2021 @ 1:00 pm

-

2:00 pm
---
Whether you're an experienced seed grower or still working out how to produce seeds commercially, biennial seed production can feel like "a whole new ballgame." But never fear: EFAO Seed Program Manager, Rebecca Ivanoff, can help demystify this process and share some ideas for how to approach it most efficiently, while ensuring the viability of your seeds.
Rebecca will share her experience growing carrots, beets, cabbage, and onions for seed. These crops, which take two years to produce seed, present some unique challenges and also exciting opportunities. For the first 10 minutes, Rebecca will share photos and techniques that have worked for her, leaving lots of time for you to ask questions and share knowledge with others on the call. What biennial crops are you growing for seed or are curious about growing? How can we protect these crops over our cold winters so we can save seed the next year? What plants do you choose to save seed from? Bring your tough questions! Seed Meet-ups also provide information about what kinds of in-depth learning members are looking for. If the group can't answer your question during this session, EFAO can look for expert speakers who can answer it at an upcoming workshop.
This is the third Seed Grower Meet-up, which occur monthly for EFAO members. Growers of all experience levels and at all points in the process of seed saving and production are welcome. Participants will have the chance to network, strategize on issues, and learn with other seed growers.