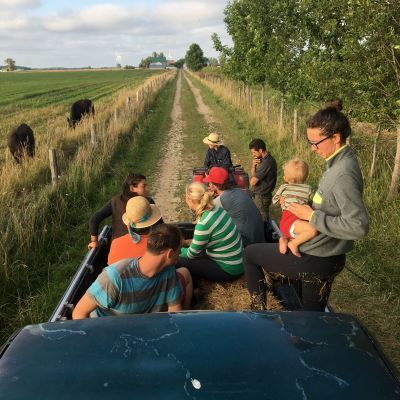 Rotational Grazing for Climate Resilience
Saturday August 26 @ 10:00 am

-

3:00 pm
---
This event is held in partnership with Holistic Management Canada. This day is made possible thanks to funding from Farmers for Climate Solutions and the On-Farm Climate Action Fund.
Meeting Place Organic Farm has been raising grass-fed beef, and pastured pork and chicken for over 40 years. The cattle on this farm are raised without antibiotics, hormones or GMOs.
This full-day field day will include a tour of Meeting Place Organic Farm, a multigenerational farm in Lucknow Ontario, including cattle, pigs, horses and poultry on pasture using portable electric fencing and poultry hutches. The lunch for this event features ingredients from the farm and the fee is  included in the registration. The discussion will focus on how rotational grazing works and how you can integrate these methods into your own farm plans. Pasture charts will be available with a discussion of how to use them to keep track of your pasture activities during the grazing season. There will also be a discussion of the role of pastures and hay land in the carbon cycle and the water cycle.  We will consider how these impact carbon sequestration and farm resilience in the face of drought and flooding. This August tour will be a chance to see pastures after they have been through a significant portion of the grazing season.
10:00 AM
Orientation & Welcoming Note
10:30 AM – 12:00 PM
Hilltop survey of Meeting Place Organic Farm & a history of the farm's work
Discussion of grazing theories and record keeping: pasture charts, pasture layout, razing periods and recovery periods.
12:00 PM – 13:00 PM
Lunch is provided and will feature ingredients from the farm (cost included in registration)– visiting and continuing discussion
1:00 PM – 3:00 PM
Pasture tour & Animal and Pasture Monitoring.
15:00
End of Day – wrap up and questions.
For those interested – we will then go to Starsylvania – 4 KM from Meeting Place Organic Farm.  Jon and Marion Hustis will showcase and discuss their Farmer-led Research Trial looking at test strips of a many species diverse pasture mix and also a many species prairie seed mix in a pasture newly seeded in 2022.
This event is an OSCIA-recognized Knowledge Sharing Event (KSE) for farmers with On-Farm Climate Action Fund (OFCAF) projects in the Rotational Grazing Systems category.
Questions about OFCAF should be directed to OFCAF@ontariosoilcrop.org