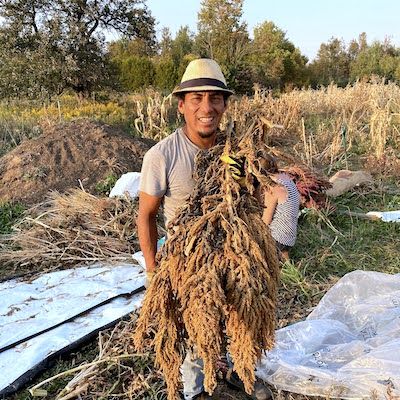 Producing and Processing Amaranth
Wednesday January 27, 2021 @ 2:00 pm

-

3:30 pm
---
EFAO farmer, Ronaldo Lec, believes Amaranthus sp. has an important story to tell. It is a highly versatile crop – it grows prolifically and is well-known for its capacity to tolerate a range of weather conditions. It has been touted as superfood due to its unusually high protein, fiber, and iron content; its gluten-free properties give it tremendous value-added potential; and its greens and seeds were an important staple of the many cultures in the Americas. This past season, Ronaldo and his partner, Myriam, grew out a screening trial to see which varieties of amaranth are best suited for their region of southern Ontario. Ronaldo and Myriam are also the co-founders of Ecology & Solidarity (ECOSOL) a non-profit organization which works to promote the cultivation of amaranth. 
Come learn about this crop, and its huge potential to support food sovereignty in Ontario and around the world. This webinar also provides a unique opportunity to learn about Indigenous knowledge, particularly Ronaldo's Kakchiquel knowledge, and food plants native to the Americas.
Join this webinar to learn more about the cultural importance of this crop as well as how to grow, harvest and process it. Ronaldo and Myriam have recorded important parts of the harvest and processing which participants will have access to prior to the workshop.
Recording will be sent to all participants after the event takes place.