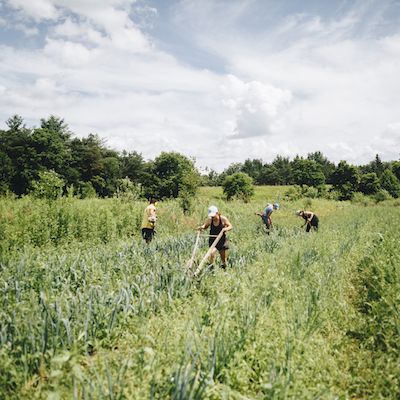 Online Farm Planning Course
Tuesday January 17 @ 7:30 pm

-

Tuesday March 21 @ 9:00 pm
---
EFAO and Everdale have partnered once again to offer this intensive farm planning course for new and beginning farmers.
Thinking about starting a farm business? Already running one but struggling with business planning? If you're ready to start planning your farm business, this course is for you!
Course Overview
This ten week, comprehensive course will walk you through the steps to write a detailed farm plan for your farm business. Each week will consist of a pre-recorded webinar, a "live" farmer-to-farmer session, and optional group networking; as well as worksheets, templates, resource links and farm case studies.
Live sessions take place every Tuesday evening at 7:30pm on January 17th, January 24th, January 31st, February 7th, February 14th, February 21st, February 28th, March 7th, March 14th and March 21st. *All sessions will be recorded and shared with participants.
Is this course right for me?
This Online Farm Planning Course is geared towards farmers who are serious about starting a farm business in the near future, or who are already farming but have not yet completed a farm business plan.
Please note that getting the most out of this course requires an investment of time and thought. Aside from the 1 – 1.5 hr weekly online sessions, there will be additional time needed to review pre-recorded video content (approximately 30min per week), and to complete the worksheets that will help you write your farm plan. There will also be optional group networking opportunities to meet other new and beginning farmers, share experiences and troubleshoot.
Course Outline
Week 1: Farm Visioning
Week 2: Production Planning
Week 3: Marketing – Sales & Distribution
Week 4: Marketing – Promotional Strategies
Week 5: Recordkeeping
Week 6: Farm Financials – Introduction to Farm Financials
Week 7: Farm Financials – Budgeting
Week 8: Meeting Small Business Requirements
Week 9: Risk Management
Week 10: Accessing Financing
Testimonials from past participants
"We have a better understanding of the questions we have to ask and answer to ensure we farm successfully as a business. The practical advice and ideas we got are helping us develop our own plans that are right for us. The breadth and scope of the presenters also helped us develop a broader perspective on the variety of solutions and models out there."
"Connecting me with a like minded community has been very inspiring – I don't have a farming background and have had one season working on a medium scale organic vegetable farm. It's so cool to learn from different farmers and explore all the other methods, practices and possibilities. The business information [was] very helpful, to put dreams into perspective and see what it actually takes to develop a business."
"The biggest [tangible takeaway] was seeing so many other farmers that started in a similar position and are happy with the choice they made and have a viable farm.  That's a major confidence boost and inspiration and I think that added so much to the course."
***Course pricing increases on January 13th***
If you are a farmer living in northern Ontario, you are eligible for a 10% discount on the registration fee for this course. Please fill out this form to confirm your eligibility.
In order to make this course accessible to all participants, EFAO will strive to cover registration fees for anyone who needs financial assistance. EFAO strongly encourages anyone facing financial barriers to participation to request support by completing this form.