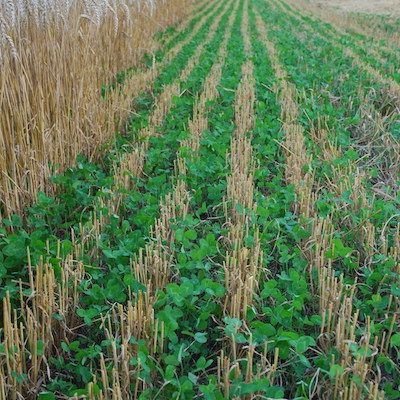 Northern Cover Crop Innovations
Wednesday December 8, 2021 @ 7:00 pm

-

8:30 pm
---
La version française suit la présente version anglaise. The French version follows the English version.
How are northeastern Ontario farmers using cover crops in their field crop rotations? What are the most successful cover crops for northern climates? What are the benefits and challenges of adding cover crops to field crop rotations? Find the answers to these questions and more at this comprehensive webinar for field crop producers, offered in partnership by the Rural Agri-Innovation Network (RAIN), Northern Ontario Farm Innovation Alliance (NOFIA) and EFAO.
Speakers:
Callum Morrison is a graduate student at the University of Manitoba specializing in cover cropping on the Canadian prairies through the 2020 Prairie Cover Crop Survey and in Ontario through the 2020 Ontario Cover Crop Feedback Project.  Originally from Scotland, Callum is now living in the Red River Valley of Manitoba. Callum has thoroughly enjoyed his research journey, especially working alongside organizations, and most importantly, connecting with the farmers themselves.
Joshua Nasielski from the Department of Plant Agriculture at the University of Guelph is currently working on a research project on the use of a small grain cover crop in corn and soybean rotations. Josh will share the results of his research to date, with a focus on findings for New Liskeard, including key takeaways to date, and the cover crop mixes with which they have found the most success.
Terry Phillips is an agronomist at Co-op Regionale de Nipissing-Sudbury, and a farmer and seed retailer based in New Liskeard. Terry farms 420 acres in the Temiskaming District, near New Liskeard, Ontario and runs a rotation of canola, spring or winter wheat, RR soybeans, and either pedigreed oats or pedigreed barley, and processed pedigreed oats and barley are wholesaled through their company: Phillips Seeds Ltd. All crops are no-till except for soybeans and Terry has started growing cover crops (55% tillage radish and 45% crimson clover) after cereal harvest. He will share some challenges and successes he's seen to date.
We are pleased to offer this webinar at no cost, thanks to funding from FedNor and NOHFC.
Innovations au sein des cultures de couverture dans le nord de l'Ontario
Comment est-ce que les agriculteurs du nord-est de l'Ontario utilisent-ils les cultures de couverture dans leurs rotations de grandes cultures? Quelles sont les cultures de couverture les plus efficaces pour les climats nordiques? Quels sont les avantages et les défis de l'ajout de cultures de couverture aux rotations des grandes cultures ? Trouvez les réponses à ces questions et à bien d'autres dans ce webinaire conçu pour les producteurs de grandes cultures. Cet événement est offert en partenariat par le Rural Agri-Innovation Network (RAIN), le Northern Ontario Farm Innovation Alliance (NOFIA) et l'association Ecological Farmers Association of Ontario (EFAO).
Conférenciers:
Étudiant diplômé de l'Université du Manitoba, Callum Morrison se spécialise dans les cultures de couverture dans les Prairies canadiennes par le biais de l'enquête sur les cultures de couverture des Prairies en 2020 (2020 Prairie Cover Crop Survey) et en Ontario par le biais du projet sur les cultures de couverture de l'Ontario en 2020 (2020 Ontario Cover Crop Feedback Project). Originaire d'Écosse, Callum vit maintenant dans la vallée de la rivière Rouge au Manitoba. Callum a vraiment apprécié son parcours de recherche, en particulier en travaillant aux côtés d'organisations et, surtout, en côtoyant les agriculteurs eux-mêmes.
Joshua Nasielski, du Département de phytotechnie de l'Université de Guelph, travaille actuellement sur un projet de recherche sur l'utilisation d'une culture de couverture de petites céréales dans les rotations de maïs et de soja. Josh va partager les résultats préliminaires de ses recherches, en mettant l'accent sur les découvertes qui ont eu lieu à New Liskeard, y compris les éléments importants à retenir, et les mélanges de cultures de couverture avec lesquels son équipe de recherche a trouvé le plus de succès.
Terry Phillips est agronome à la Co-op Régionale de Nipissing-Sudbury et agriculteur et détaillant de semences basé à New Liskeard. Terry exploite 420 acres dans le district de Temiskaming, près de New Liskeard, en Ontario et gère une rotation de canola, de blé de printemps ou d'hiver, de soja RR et d'avoine à semences contrôlées ou d'orge à semences contrôlées, et l'avoine et l'orge de semences contrôlées transformée sont vendus en gros par l'intermédiaire de leur entreprise : Phillips Seeds Ltd. Toutes les cultures sont ensemencées directement, à l'exception du soja, et Terry a commencé à cultiver des cultures de couverture (55 % de radis huileux et 45 % de trèfle incarnat) après la récolte des céréales. Il compte partager ses principales réussites et défis relevés jusqu'à maintenant.
Nous sommes heureux d'offrir ce webinaire gratuitement, grâce au financement de FedNor et de la SGFPNO.