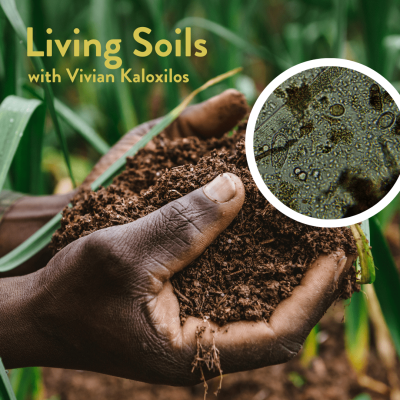 Living Soils Intensive
Wednesday March 1 @ 12:30 pm

-

Wednesday March 29 @ 4:00 pm
---
This course runs from 12:30-4:00pm every Wednesday in March (March 1-29). Sessions will be recorded and shared with course participants, however participants are strongly encouraged to attend as many sessions live as possible as each week builds on the one before.
Join Vivian Kaloxilos from Docterre Soil Life Regeneration for a five week deep dive into the world of living soils as the basis of regenerative agriculture. The course will include thorough coverage of living soils principles, theory, and science. There will be a focus on practical on-farm techniques to foster thriving soils that in turn support healthy, resilient food production. Participants will leave understanding how to apply their learning to their specific farming and/or food production context. This course will be relevant no matter your crop or scale or current farming practices — from conventional to organic and everything in between. This is the last live full course training that Vivian has planned for the foreseeable future — don't miss out. Prices increase February 20th at midnight!
In addition to the online course, EFAO will host a minimum of one in-person Living Soils Workshop in southwestern Ontario (St Thomas/London area) at the end of April 2023, at additional cost. The online course is a mandatory prerequisite for participating in the in-person workshop. Each workshop will provide additional hands-on learning. 
Participants will have the opportunity to register for one of the following options:
Register for the online portion of the course ONLY

Register for the online course + add on an in-person southwestern Ontario workshop

Register for the online course + indicate interest in an in-person workshop in their region (other than southwestern Ontario) if one is offered *
If you do not wish to register for the workshop in southwestern Ontario but would be interested in registering for one in your region, please register for the Online Course only and indicate your interest in a workshop in your region when prompted.
*EFAO will organize more late spring workshops in other regions of Ontario when there are 10+ participants interested from a particular region. If you are interested in hosting a workshop at your farm for your region, please indicate this when asked on the registration form.
Course Outline
Session 1: Living Soils & Soil Ecology Theory.  Learn about the relationships between the soil microbiome and plants; the ecosystem services of soil; the relationship between soil health and agroecological principles; and understanding the impacts of various management decisions on the soil ecosystem, e.g. tillage, soil amendments, etc.
Session 2: Everything Compost. Learn the differences between a market compost, an ecologically complete compost, fungal vs bacterial compost, and when to use which compost type and for what.  This session will cover the realities of on farm composting, advantages of making or buying compost, and how to decide what system to use at your farm and what techniques (e.g. vermicomposting, thermal composting, bioreactor, balanced recipes) will help you accomplish your composting goals.
Session 3: Compost Teas and Extracts. Learn what compost teas and extracts are and when and why to use them; when to use one over the other; and additional information on practices such as using nettle ferments, kelp ferments, and other soil foodweb foods like kelp and fish. This session will cover the equipment needed to make teas and extracts, and how to modify equipment on the farm to make use of these products. Finally, this session will discuss the different options for making or buying an extractor or brewer system
Session 4: Microscopy. This session is about understanding what functional soil biodiversity analyses are, what the data practically means for your farm, and how this data differs from  traditional NPK testing and other microbial testing methods. We will also discuss the timing of when or why functional soil biodiversity testing might be useful. We will discuss the situations in which a farmer might need basic microscopy skills for monitoring liquid inoculums. We will look under the microscope together.
Session 5: Integrating learning. This session will focus on group sharing and reflection on individual soil health plans that participants have created throughout the course. 
In-person Workshop (optional): Participants in the Living Soils course will have the opportunity to add on an optional in-person workshop, at an additional cost of $100. You must participate in the online course to be eligible to attend a workshop. Workshops include:
Approximately 6 hours of additional in-person content, hands-on learning, and community building

Field observations, soil and compost sampling, analysis and microscopy in practice all together

Tour and discussion with the host farm
Workshops do not include meals. Participants are encouraged to bring a picnic lunch!
About the instructor:
Vivian is passionate about the natural world, assisting and documenting life and biodiversity as it bounces back from states of degradation. She is an ecologist who specializes in soil ecology and applied soil life regeneration. She sees herself as a support system to farmers and landowners who are at the front lines of the regenerative movement. Through her company Docterre, founded in 2015, she has been educating, supporting and accompanying farmers in their processes of regenerating soil biodiversity, understanding the connection between the health of subterranean biodiversity and above ground plant and ecosystem health and performance, and helping them to develop the practical skills needed to do so. She has been looking at agricultural soils and composts across Quebec and Ontario under her microscope for a decade, supporting the work of ecologically innovative farmers and documenting their trials this way. Vivian is a master compost maker, providing compost inoculums that are ecologically balanced and biologically rich, which her clients use to make liquid compost extracts on farm. She has guided many farmers in on farm compost extract production, on farm composting, microscopy, and understanding the agroecological systematic approaches needed to go hand in hand with soil ecology for results in the field. She's seen the reality of applying regenerative practices on many types and scales of farms. Before founding Docterre, she taught and mentored Dr. Elaine Ingham's soil consultants around the globe, was a graduate of McGill's School of Environment and the Smithsonian Tropical Research Institute in applied field ecology, and completed her Permaculture Design Certificate. Today she sees herself as an ecologist at the service and support of a farmer-led regenerative movement, and her wish above all else is to see a renewed and thriving culture, reintegrated in ecology, and that the natural balance be restored.
EFAO offers limited financial assistance to farmers facing barriers to participation, and will prioritize support for equity-deserving farmers. If cost is a barrier to participation, please fill out this form.