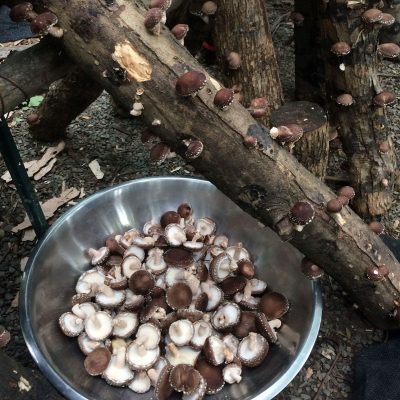 Learn to Farm Mushrooms Series
Friday February 24 @ 12:00 pm

-

Friday March 10 @ 2:00 pm
---
Mushrooms are a unique crop that are gaining in popularity and are sure to set you apart in local markets. Species can be cultivated outdoors and indoors and production is easily scaled to meet your goals. Join farmer, author, and educator Steve Gabriel for a three part series introducing aspects of successful farm-scale growing and sales of shiitake, oyster, lions mane, and other specialty mushrooms. Each class will offer a lecture for the first hour or so, and leave plenty of time for Q&A to respond to the interests of those gathered. 
Register for individual sessions on the EFAO Events page or access bundle savings by registering for the series here!
February 24: Outdoor Mushroom Cultivation
Production on logs, stumps, and beds of wood chips and compost offer mushroom production systems that respond to the natural seasons and a direct connection to healthy soil and forest management. This session will focus on log-grown shiitake as an anchor for profitable outdoor production, but also introduce several secondary species and techniques. 
March 3: Indoor Mushroom Cultivation 
When growing in a controlled climate, one can achieve consistent high yields and even extend the production season far beyond the bounds of outdoor systems. Learn about how spaces such as barns, basements, high tunnels, and dedicated structures can all support mushroom production, and the tools and tricks for keeping consistent temperature, humidity, light, and air exchange resulting in beautiful flushes of high quality mushrooms. 
March 10: Harvest, Marketing, and Sales
You can't make an income growing mushrooms – you have to sell them! Right now, mushrooms are having a moment, and good margins for small, local producers. Learn approaches to budgeting and scaling production to meet income goals. Consider the practical and regulatory aspects of harvesting and selling fresh mushrooms and value added products. Weigh the pros and cons of various sales outlets including farmers markets, CSAs, restaurants, and wholesale accounts.  
About Steve Gabriel
Steve Gabriel is an ecologist, author, and educator living in the Finger Lakes Region of New York State in the US. Throughout his career, Steve has taught thousands of people regenerative methods for healing landscapes and generating income. His focus has largely been on mushroom cultivation and agroforestry practices. Alongside his family, he co-stewards Wellspring Forest Farm, producing mushrooms, pastured lamb, trees, and hosting educational events and agritourism rentals. He consults for a wide range of projects from individual farms to national and international organizations.
He served as extension specialist for the Cornell Small Farms Program for 12 years and developed the leading specialty mushroom research and education program within an academic institution in the USA. He has served as guest faculty at Cornell University, Sterling College, Paul Smith's College, and the Omega Center for Sustainable Living. Steve co-authored Farming the Woods with Ken Mudge in 2014, and is author of the new book Silvopasture, released in 2018.