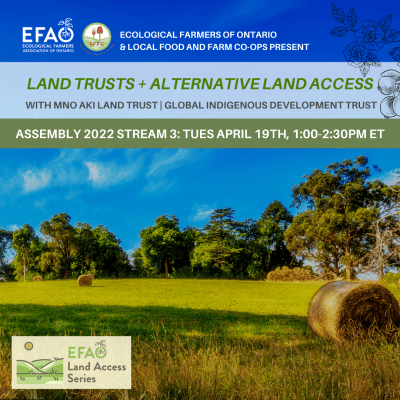 Land Trusts and Alternative Land Access
Tuesday April 19, 2022 @ 1:00 pm

-

2:30 pm
---
This session is a part of Stream 2: Collaboration & Co-ops as well as Stream 3: Food Economies & Communities of Practice, taking place through the Local Food and Farm Co-op (LFFC) 12th Annual Assembly. EFAO members receive a $3 discount on any Stream of the Assembly, or a $10 discount on a Full Assembly Pass. Use the link above to register for the LFFC Assembly. Login to your EFAO member account or email events@efao.ca to receive the discount code.
Not attending the Assembly? You can register for ONLY the Land Trusts & Alternative Land Access session using either the "Member" or "Standard" pricing above.
The Land Access Series is intended to provide practical tools and visionary ideas to support equitable access to land by farmers, while prioritizing tools and ideas that may reduce barriers for farmers who face increased systemic marginalization. While the root causes of land inaccessibility must be addressed through policy and systemic approaches, EFAO recognizes that this problem is sticky and complex, and on-the-ground solutions must be found while larger scale approaches are pursued. EFAO hopes that this series can demonstrate useful models, practices, and ways of approaching land access to equip participants with new tools and resources to support their land access journeys.
Session Description: The sustainability of our food systems hinge largely on the availability of affordable, arable land and the opportunity for individuals, organizations and communities to access it equitably.  Join LFFC Northeast Regional Coordinator Mike Degagne and the Ecological Farmers Association of Ontario to explore alternative land access through cooperative land ownership (Black River Worker Co-op) and Indigenous land trust (Mno Aki, Global Indigenous Development Trust) models. Hear about successes, challenges, best practices and new developments in the sector and see how the LFFC can support your search for sustainable land access.