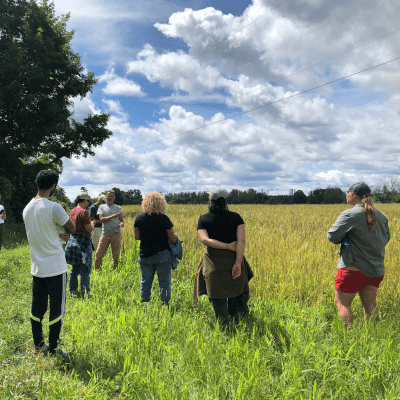 Ironwood Organics: Growing the Grain
Friday July 21 @ 10:00 am

-

4:00 pm
---
This event will be offered in both English and French!
Please bring a bagged lunch to enjoy on the farm.
Chris Wooding has been growing small grains in Athens, Ontario for many years, with the mission to be a leader in growing nutrient dense heritage grains while supporting a strong baking and brewing community. He has bred and produced multiple varieties of regionally-adapted winter and spring wheat, rye, oats, barley, and buckwheat. Some he grows on 3 acres, some on a quarter acre, and some are only 10g seed-banks-sized plots! Ironwood Organics is committed to building soil health and building community health through sustainable agriculture.
Chris has accumulated plenty of technical knowledge – and lots of small grains equipment as well. Learning from Chris's successes and challenges will give new small grain growers a head start on their journey, and seasoned growers some new and innovative ideas.
Join Chris for a full day farm tour to see his crops growing, and to explore new and exciting ideas for growing, managing, marketing, and using various small grains. Bring your questions about ecological small grains management, equipment for small and medium scale production, and identifying marketing opportunities for your unique scale and style of production.
This is an opportunity to see numerous varieties of spring /winter wheat, barley and rye, all being grown at various scales.
The Quebec Regional Coordinator for the Bauta Family Initiative on Canadian Seed Security, Hugo Martorell, will offer in-person French translation for this event.