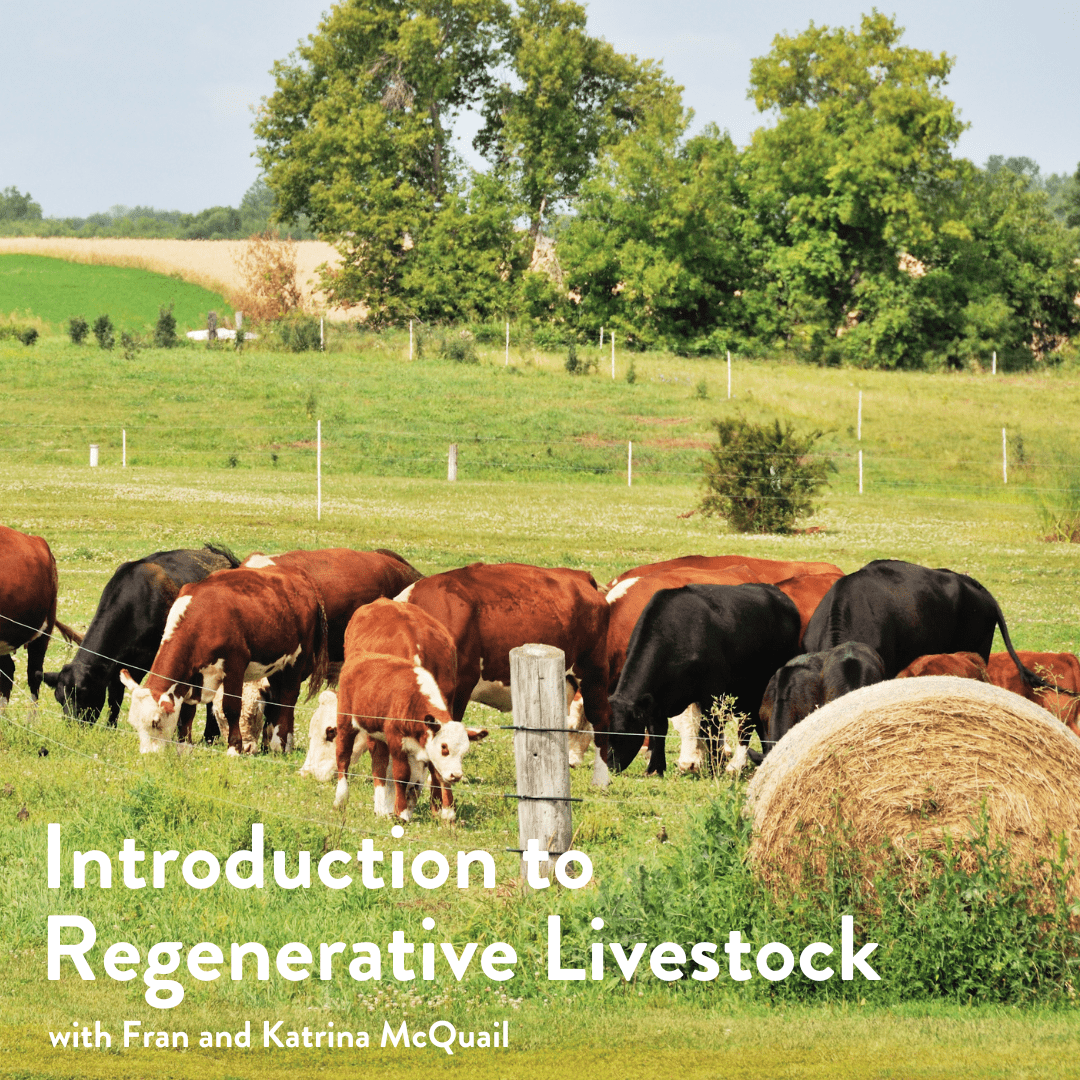 Introduction to Regenerative Livestock Course
Wednesday February 1 @ 7:30 pm

-

Wednesday March 8 @ 9:30 pm
---
Course Overview
In this six-week course, mother-daughter team Fran and Katrina McQuail of Meeting Place Organic Farm will dive deep into how to go about caring for all varieties of livestock, including poultry (laying hens, meat birds, ducks, geese, & turkeys), ruminants (sheep, goats, & cattle), and hogs, in a way that pays mind to both soil & ecosystem health, and farm financial sustainability.
You'll learn the fundamentals of caring for livestock, how to make livestock farming a viable business, and there will be plenty of opportunity for questions and discussion to ensure you leave with the info you need!
Is this course right for me?
This course will be particularly well-suited to those just starting out or planning to start out with livestock, who wish to explore the fundamentals of each livestock option and determine which is best suited to their farm operation. This course will also be relevant to those with intermediate knowledge of livestock, but who wish to brush up on their knowledge of one or more cow-tegories of livestock or gain new perspectives from seasoned instructors.
The course can be attended in its entirety, or you can sign up for individual sessions on our events page. See below for the course outline.
Course Outline
February 1: Introduction- background of Meeting Place Organic Farm and course instructors; benefits and challenges of keeping livestock; assessing your location and any existing facilities; identifying resources; introduction to grazing plans
February 8: Poultry (including hens, meat chickens, ducks, and turkeys, as well as quail and geese if there is interest)
February 15: Pigs
February 22: Small ruminants (sheep and goats)
March 1: Cattle (and draft horses if there is interest)
March 8: Course wrap-up and Q&A; processing livestock; animal husbandry standards and certifications; marketing; writing a grazing plan
***Course pricing increases on January 26th***
About the instructors:
Fran McQuail: Fran McQuail and her husband, Tony, have run a small diversified certified organic farm ( Meeting Place Organic Farm)  near Lucknow, Ontario for 40 years. After turning the business over to their daughter, Katrina, they still live on the farm and continue to be actively involved with it.
The farm evolved over the years from a small homestead livestock style operation to a commercial enterprise but still with a wide diversity of livestock. They have raised everything from rabbits to goats to horses and most other types of livestock along the way. They were early adopters of Holistic Management's Planned Grazing, a rotational grazing system that improves the pasture over time by considering the plants in addition to the animals.  Planned Grazing of all livestock is the foundation of the farm's current production. This include meat chickens, layers, pigs, cattle and draft horses. The farm's website is www.meetingplaceorganicfarm.ca
Fran, a past President of EFAO, enjoys sharing her knowledge and experiences with others and has done livestock and farm management courses for EFAO in the past.
Katrina McQuail: Katrina McQuail returned to Meeting Place Organic Farm in 2014 and took over the farm business in 2016. Born and raised in Huron County on the farm, Katrina took a round about way back to becoming a farmer. Spending over 10 years away, Katrina completed a degree in Business and Not For Profit Management and a minor in French at Earlham College in Indiana before going on to work in the culinary industry, traveling in the Caribbean, Central and South America as well as in Europe, and working for government and corporate agencies before running a wonderful social change not-for-profit in Guelph for 4 years.
Currently Katrina serves on the EFAO board, just stepped back from the Eat Local Huron Board and is the assistant clerk for Friends General Conference. Katrina is passionate about all things farmy – but especially pigs. Katrina and her partner Ben live on the farm with their two young children. Planned Grazing of all livestock is the foundation of the farm's current production. This includes meat chickens, layers, pigs, cattle and draft horses. The farm's website is www.meetingplaceorganicfarm.ca
In order to make this course accessible to all participants, EFAO will strive to cover registration fees for anyone who needs financial assistance. EFAO strongly encourages anyone facing financial barriers to participation to request support by completing this form.