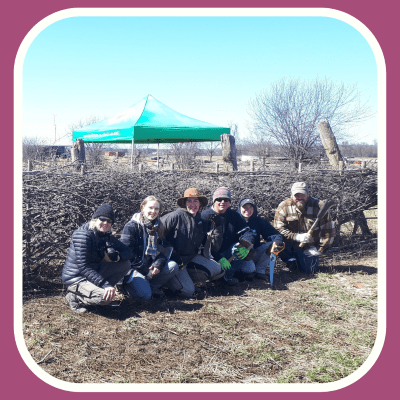 Hedgerows and Hedgelaying in North America
Monday March 27 @ 12:00 pm

-

1:30 pm
---
This webinar is available to all at the member registration rate, as a part of Member Month! EFAO members get great perks including free and reduced cost events – join today!
North American hedgerows, also known as fencerows, shelterbelt or windbreaks, are diverse in structure and usage, but usually little or no management is regularly undertaken. 'European'-style hedgerows or living fences planted with management in mind were established by early settlers who wanted to recreate their homeland landscapes and protect soils. By the twentieth century, they had all but disappeared, primarily due to the modernization and intensification of agriculture.
Hedgerows have received more attention in North America recently because of the rise in interest in agroforestry and socio-ecology (homesteading, transition cultures, localism and sense-of place) resting on evidence for the growth of ecosystem services delivered by hedgerows. In this webinar Jim Jones will give a brief history of hedgerows, outlining their ecological and social importance, and give an overview of management through the concept of the hedgerow cycle and the traditional skill of hedgelaying. Jim has 15 years of experience in hedgerow ecology and management, first as an ecologist in the UK and more recently as Manager of the Hedgerows in The Ontario Landscape project at The University of Waterloo. He currently runs hedgelaying training courses through the Ontario Land Skills Network and consults on Hedgerow projects with his partner in their business The Hedgerow Co.