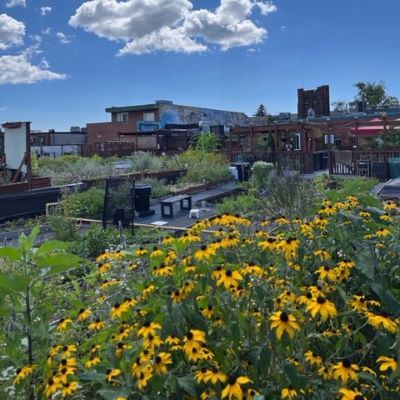 Growing Vegetables, Flowers & Community on The Carrot Green Roof and Garden
Wednesday September 6 @ 2:30 pm

-

6:30 pm
---
Join Priya and the garden team at The Carrot Green Roof and Garden to learn about the interaction of food growing with community and art, what grows well on the roof, and more lessons learned on urban ag stewardship. Later in the day, hear from others tending The Carrot Green Roof and Garden about beekeeping, rooftop landscape design, and seed saving. This field day will conclude with a BIPOC Farmers Network Meetup and a BBQ social.
2:30-2:45 pm Meet & Greet!
Arrival, introductions. A welcome lemonade / iced tea with herbs from the roof gardens.
3:00 – 4:00 pm Tour of the Gardens:
A little history of the rooftop garden and the current vision of a growing space where plant cultivation is entwined with art, healing, joy and community building, led by Priya Jain
Crop Lessons from an Urban Rooftop: What's thriving? What's challenging? Favourite community crops? Best practices?
The role of native plants in ecological growing spaces
Irrigation and water stewardship in challenging spaces
4:00 pm Snack break
4:15 pm – 5:30 pm Workshops:
Bee-keeping Workshop
Learn about keeping bees in an urban rooftop garden! Led by Gillian Leitch, beekeeper and landscape designer (AlterEden), member of Toronto's Pollinator Advisory Group
Seed Saving Workshop
Learn the basics of seed-saving and bring home seeds for your garden, led by Carrot Green Roof staff
5:30 pm – 6:30 pm Social Connection and Food

 EFAO Black, Indigenous, People of Colour (BIPOC) Farmers Network Meetup – BBQ Social
ABOUT THE SPACE
The Carrot Green Roof & Gardens, is on the second floor and rooftop above The Big Carrot at 348 Danforth Avenue. It is a few minutes from Chester Subway Station. There is an indoor space, Room 212, that can also be used throughout the day.
Accessibility to the Space: through outdoor staircase, west of the entrance to The Big Carrot, with alternative to accessing the roof & gardens from 348 Danforth Avenue entrance, where an indoor chairlift is available and a ramp leading to the outdoor deck area. A public wheelchair accessible washroom is on the ground floor in The Big Carrot and a private washroom is on the 2nd floor. There is an active beehive in the gardens.
Attendees are encouraged to dress for the elements and to bring a water bottle for the day.