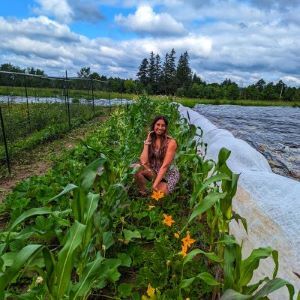 Food, Climate Justice and Farmer Researcher Field Day at Shade of Miti
Tuesday September 5 @ 4:00 pm

-

6:00 pm
---
Shade of Miti is a small-scale, ecological farm in the Region of Peel that specializes in South Asian vegetables. Advocacy and education are at the heart of the farm. Participants for this field day will join Rav Singh for a walk around Shade of Miti to learn about growing and selling cultural crops like ginger and bitter melon, hear about being an Okra farmer-researcher, and see Rav's off-grid solar-powered pond irrigation system.
This time of year is excellent to observe the 5 different types of Okra that Rav grew in 2023, and to ask about the productivity potential for what is often a low yield and high demand crop in Ontario.  See first hand what a farmer taking part in crop trials needs to do as a farmer researcher, and learn about what kinds of research questions you might be able to investigate in future.
Learn what informed Rav's choices about off-grid solar-powered irrigation systems: the research process, what kinds of irrigation are suitable, understanding ponds etc. Rav will also discuss legal considerations, food safety, what equipment is best, cost, and the time-frame required to get this type of irrigation system up and running.
Land Access: This field day will also include a conversation about how Rav came to farm on this land. The landowner, a retired farmer, can speak to how he and Rav connected during her land search and developed their agreement. EFAO and NFU-O (National Farmers Union Ontario) staff will also be available on the tour to talk about broader land access concerns and opportunities in the GTHA. Participants will also get to learn about the farm's composting toilet, chickens and bees.
Participants are encouraged to dress for the elements and bring a water bottle for the day. There will be access to an indoor space in the event of rain, as well as access to an indoor bathroom throughout the event time.
When the event ends at 6:00 pm, members of the EFAO BIPOC Farmers Network are invited to stay for a group meet-up and picnic from 6:00 pm – 7:30 pm. Details to be confirmed with registrants prior to the event.
NOTE:  EFAO's Demonstration Garden Tour will be held on August 23  and will address the okra seed selection process. Consider coming to both if you can!