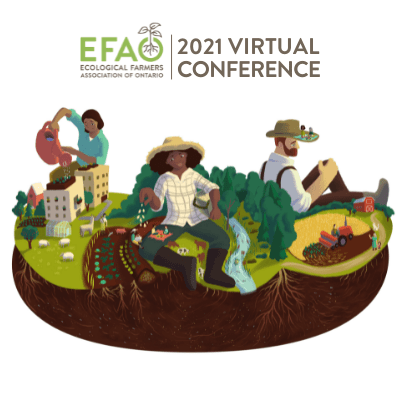 EFAO 2021 Conference Recordings Bundle
Thursday January 6, 2022

-

Sunday March 6, 2022
---
Missed the conference? Not to worry! When you purchase this recordings bundle, you will have access to all recorded sessions from the conference until December 31st, 2022.
The 2021 conference theme was Cultivating Common Ground, reflecting EFAO's efforts over the past year to broaden the network of farmers and organizations we work with, and to bring equity and diversity to EFAO as an organization, membership, and community. We recognize that real strength comes from working together and bringing different perspectives and skills to the critical work of building resilient ecological farms and communities. This year's conference once again created incredible learning and opportunities for farmers to hone their craft, grow their business, and connect meaningfully with others to build a strong knowledge-sharing community.
What you'll receive in the recordings bundle (you can read indepth session descriptions and presenter bios on the conference website):
***If you only want to purchase a single day set of recordings, these are available for $35 for Members and $45 for Standard. Please email cassie@efao.ca with which day you would like to purchase.
Monday Recordings
Traditional Ecological Knowledge as Indigenous Science
Making the Most of Your High Tunnel Soils & More
Silvopasture 201
Employee Perspectives on Thriving Work Environments
Raising Sheep on a Regenerative Vegetable Farm
Research Symposium Session 1
Fluxing Farms: A Community Conversation
Land Access Panel
Tuesday Recordings
Journey of a Soil Farmer
Love'Em or Leave'Em: Online Platforms
Breeding for Climate Change Resilience
Seed Stories: The Roots of Seed Justice
Keynote: Kristyn Leach
Wednesday Recordings
Greenlander! Expanding the use of cover crops in organic vegetable production
From Micro to Macro: Scaling up your microgreens operation
Innovations in Small Grains
Stock Cropping: Unique cropping and livestock arrangements
Grain Buyers Meet and Greet: Expanding your market
Documentary Discussion: Livestock on the Land and Regenerative Grazing in Ontario
Thursday Recordings
No-till Vegetable Production: Small Scale Farms
No-till Vegetable Production: Large Scale Systems
Reduced Tillage in Organic Field Crop Production
Increasing Profitability Through Value-Added Products and Delivery
Rotational Grazing Tools and Equipment to Save Time and Labour
Resilient Seed Systems: A Consultation
Farmers for Climate Solutions: Farmer Leadership in Climate-Friendly Practices
Not a member? Join EFAO to receive the member discount on your conference registration!