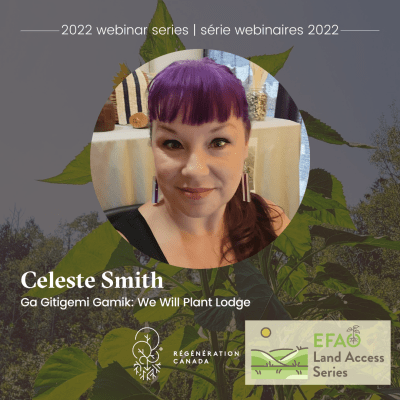 Cultural Easements and Agreements/Les accords et ententes de servitude culturelle
Tuesday March 29, 2022 @ 1:00 pm

-

2:15 pm
---
The Land Access Series is intended to provide practical tools and visionary ideas to support equitable access to land by farmers, while prioritizing tools and ideas that may reduce barriers for farmers who face increased systemic marginalization. While the root causes of land inaccessibility must be addressed through policy and systemic approaches, EFAO recognizes that this problem is sticky and complex, and on-the-ground solutions must be found while larger scale approaches are pursued. EFAO hopes that this series can demonstrate useful models, practices, and ways of approaching land access to equip participants with new tools and resources to support their land access journeys.
About this session (French translation to follow below): 
Please note Regeneration Canada Members receive FREE access to this session! Please contact Sara Maranda-Gauvin at sara.mg@regenerationcanada.org if you have not received a discount code.
Join Celeste Smith from Ga Gitigemi Gamik: We Will Plant Lodge and Cultural Seeds to learn more about using a Cultural Easement to develop land access agreements. Celeste has worked in partnership with land stewards Chuck and Linda Willson from RavensWing Farm on Mnidoo Mnising (Manitoulin Island) to create a unique agreement based on the Indigenous treaty principles of relationship building. As the future home of Ga Gitigemi Gamik (We Will Plant Lodge), the site will host Indigenous women and 2SLGBTTQQIA+ people to reclaim Traditional Ecological Knowledge and practices. 
In this workshop, Celeste will share her story and advice related to developing a Cultural Easement, including building effective relationships, models and precedents to follow, and what kinds of legal and professional resources are available and/or recommended to support both landowners and land seekers interested in exploring this model. Participants will also learn more about Ga Gitigemi Gamik and ways to become involved and support the project.
This webinar is a partnership between the Ecological Farmers Association of Ontario and Regeneration Canada and simultaneous translation into French will be available.
---
Venez écouter Celeste Smith de Ga Gitigemi Gamik : We Will Plant Lodge et Cultural Seeds pour en apprendre davantage sur l'utilisation d'une entente de servitude culturelle afin d'élaborer des accords d'accès aux terres. Celeste a travaillé en partenariat avec les intendant·e·s des terres Chuck et Linda Willson de RavensWing Farm sur Mnidoo Mnising (île Manitoulin) afin de créer une entente unique basée sur les principes du traité autochtone de création de relations. En tant que future résidence de Ga Gitigemi Gamik (We Will Plant Lodge), le site accueillera des femmes autochtones et des personnes 2SLGBTTQIA+ afin de se réapproprier les connaissances et les pratiques écologiques traditionnelles. 
Au cours de cet atelier, Celeste partagera son histoire et ses conseils sur le développement d'une entente de servitude culturelle, incluant la création de relations efficaces, les modèles et les précédents à suivre, ainsi que les types de ressources juridiques et professionnelles disponibles et/ou recommandées pour soutenir les propriétaires fonciers et les chercheur·euse·s de terres intéressé·e·s à explorer ce modèle. Les participant·e·s en apprendront également davantage sur Ga Gitigemi Gamik et sur les moyens de s'impliquer et de soutenir le projet.
Ce webinaire est un partenariat entre l'Ecological Farmers Association of Ontario et Régénération Canada. Une traduction simultanée en français sera disponible.