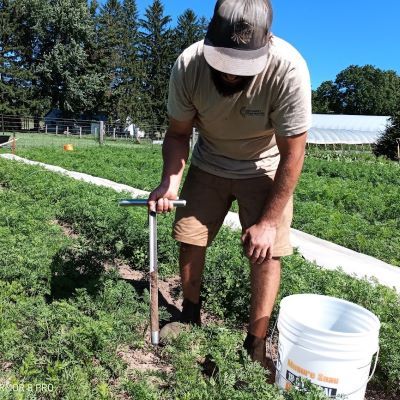 Market Gardening with Cover Crops and Season Extension at Milky Way Farm
Wednesday October 4 @ 1:30 pm

-

3:30 pm
---
Join us for this informative field day! Milky Way Farm is a mixed vegetable, four season, ecologically focused family farm owned and operated by Jesse Way and Meghan Brandenburg growing on 1.5 acres just south of Woodstock Ontario. With a regenerative agriculture approach, Jesse and Meghan strive to improve soil health and produce fresh, nutrient-dense and organic vegetables for their local community.
Join Jesse and Meghan to tour the farm, including their garden fields, greenhouse, and hoophouses as they prepare for the winter growing season, and see how they are using late season cover crops like oats, peas, rye, and vetch to prepare some of their outdoor production areas for winter and the next season. They will also discuss how they are learning to use the nutrient status of their cover crops and soil to determine plant available nitrogen from cover crops during the growing season.
This event is held in partnership with Farmers for Climate Solutions
This event is an OSCIA-recognized Knowledge Sharing Event (KSE) for farmers with On-Farm Climate Action Fund (OFCAF) projects in the Nitrogen Management or Cover Cropping category. Questions about OFCAF should be directed to OFCAF@ontariosoilcrop.org.
In order to make our events accessible to all current and aspiring farmers in Ontario, EFAO uses a "pay what you can" model. To register using this model, please complete this form!