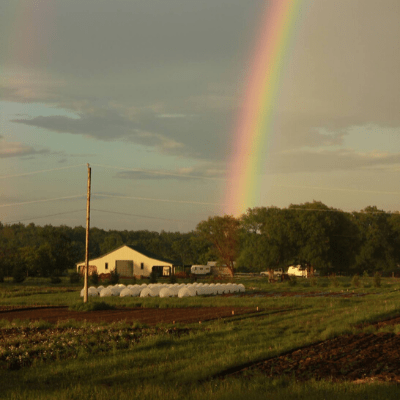 Cover Cropping Strategies for Market Gardeners
Friday September 15 @ 10:00 am

-

3:00 pm
---
This day is made possible thanks to funding from Farmers for Climate Solutions and the On-Farm Climate Action Fund.
Cover crops are a key component of building soil health, cycling nutrients, and practicing ecological and regenerative agriculture – but it takes some learning to find the right cover cropping mixes, timing, termination strategies, and rotations for your context. Join us at Field Good Farms for a full day tour and workshop to hear what strategies are working for them, and learn how you might incorporate more cover crops into your garden rotation.
*Please bring a bagged lunch with you. There will be a sheltered space to eat and chat with fellow participants.
10:00 AM – 12:00AM
Farm tour of Field Good Farms / Ferme j'me champ bien
12:00 PM – 1:00PM
 Lunch (please bring your own lunch)
1:00 PM – 3:00 PM
Cover cropping discussion and Q&A (seed mixes, tools, settings, etc)
About the farm:
Ryan Spence operates Field Good Farms / La ferme j'me champ bien in Cache Bay, Ontario alongside a wonderful group of people. They have been in operation since 2011 and cultivate approximately 5 acres (2 hectares) of fruits, vegetables, and cover crops. Their farm is guided by a simple principle: working every day to increase biodiversity, improve biome health indicators (such as water and soil quality), and reduce/eliminate waste, in order to produce healthy foods and healthy habitats for the benefit of all beings.Currently Field Good Farms operates a 40 member winter CSA program, a 60 member spring CSA program, a 90 member summer CSA program, a 70 member fall CSA program and also sells wholesale vegetables to Click Fork, an online farmers market they helped to create in 2018.
*This event is an OSCIA-recognized Knowledge Sharing Event (KSE) for farmers with On-Farm Climate Action Fund (OFCAF) projects in the Cover Cropping category.