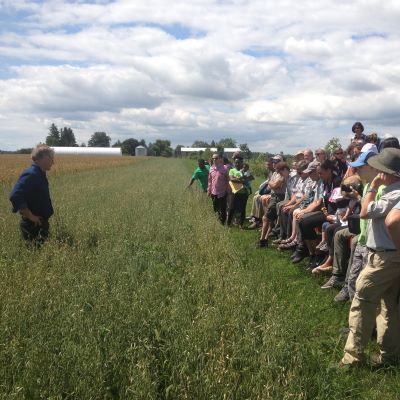 Biodynamic and Organic Farm Tour with the Boettcher Family
Sunday July 16 @ 2:00 pm

-

5:00 pm
---
Members of the Society for Biodynamic Farming and Gardening can register for this event by contacting Zeb Landon 519 429 4482. All others must register through EFAO.
The promise of this year's harvest is already visible on Chris and Gabi Boettcher's 400 acre farm near Brussels, Ontario. Farming cooperatively with their children, the Boettcher's use ecological, organic and biodynamic farming practices on their land. Their farm is operated without any outside amendments. The younger members of this family have continued converting conventional farmland, remaining committed to the ecological and biodynamic practices of the generation that has come before them.
Biodynamic agriculture focuses on enhancing the life processes of nature. Each biodynamic farm develops its own identity based on the relationships between the animals that provide fertility for the soil, the fields that provide food for animals and people, the plant life, the meadows, the orchards, the forests and the wetlands giving space for birds, insects and other wildlife. Farm balance and health are further encouraged by the use of biodynamic compost preparations and field sprays.
The Program
2pm
Introduction and opening remarks.
Walking tour of the Boettcher's home vegetable garden.
Discussion about composting as well as biodynamic preparations and practices, including the use of sprayers and other equipment.
Tour of the wider farmland, including this year's crops, livestock (sheep, goats, cattle), and rotational grazing fields.
Q&A session.
4:30pm
Refreshments and closing remarks.
Parents and guardians are asked to please monitor children closely for safety reasons.