COVER CROPPING
Discover how cover crops can help you on your farm.
Through this course, you will be able to identify how cover crops can fix some of the soil problems on your farm, and how these plants can improve your bottom line. By using cover crops, you can cut back on your use of fertilizers, soil amendments and sprays, and add biodiversity to your farm.
By completing this course, you will leave with:
A cover crop plan adapted to your region, microclimate, soil type, equipment, crop rotation and other characteristics. You will work out how and when to plant and terminate cover crops and even have back-up plans in case something unexpected happens.
Tools to help adapt and expand your cover crop plan. You will have the resources to change your cover crop plan if your farm changes and as you get more comfortable using cover crops.
A network of contacts. During the course, you will meet Mentors and other farmers in your region. You will develop a network of people you can reach out to with questions or follow on social media to find out about upcoming workshops and farm tours.
Do you want general information about the Farm Mentorship Program?
Are you looking for the Advanced Nitrogen Management or Advanced Grazing Systems courses?
How do I know if this program is right for me?
This year's course is focused on row crops and field crops and will be most relevant to farmers growing these at a large and medium scale. Future years will see curriculum broadened to focus on market gardeners and cover crops in perennial production systems.
If any of these statements resonate with you, then we think this is the right program for you!
I would like to adopt beneficial management practices (BMPs) on my farm, and I am looking to grow my knowledge or get more implementation information

I have adopted one or more climate-friendly agricultural practices on my farm with success and would like to adopt another

I have adopted a BMP at a small-scale and I am looking to scale-up

I have unsuccessfully attempted to adopt a BMP on my farm and I am looking for assistance to make it work

I have not yet adopted BMPs on my farm but I am interested in learning more
How much time will I need to commit?
Here is an approximate breakdown of your time commitment for one year:
Up to 5 hours of class time

2-4 hours of independent learning (i.e. reading material, watching videos, etc. on your own time before your in-person class time)

optional follow-up support with Farmer Mentors

unlimited access to online learning platform, including community clubs for the year
Our commitment to equity.
We believe that our sector, and our work as a coalition, will be stronger with decreased barriers to entry and better opportunities to succeed for equity-deserving farmers. We encourage people who belong to equity-deserving groups to join the Farm Mentorship Program, and have reserved 30% of registrations for equity-deserving farmers.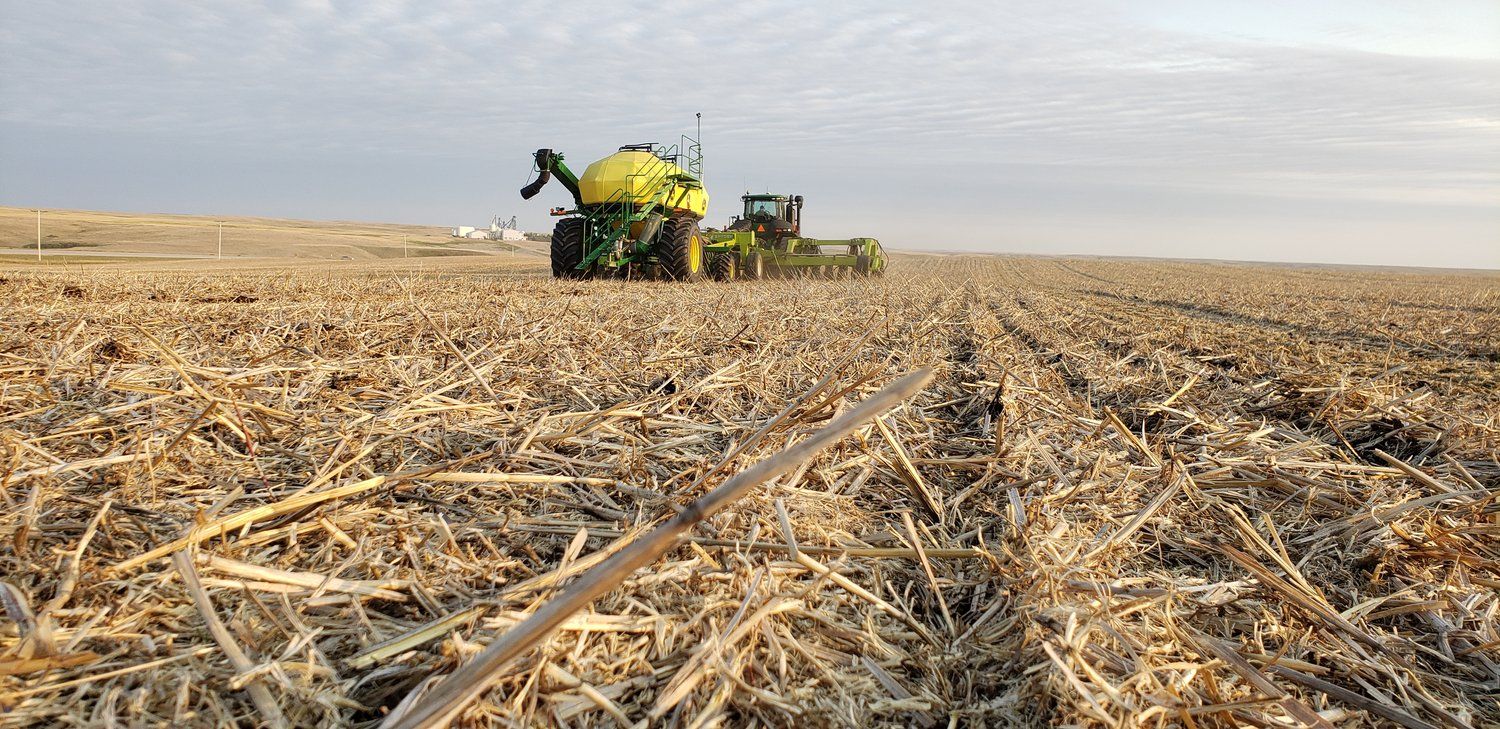 Seeding winter cover crops of oats, rye, and radish at Axten Family Farms in Minton, SK.
What can you expect from the program?
A comprehensive and supported Mentorship Program

Access to an online course system so you can learn at your own pace

Access to Communities of Inquiry, where you can join your peers in meeting spaces that foster learning, knowledge sharing and support

Access to Farmer Mentors to guide your learning and provide helpful input

A management plan to support your on-farm implementation

Useful resources and fact sheets